Bru Dolls
Bru dolls, both fashion and lady, were assembled by Leon Casmir Bru and his wife Appolyne on St. Denis Street in Paris. The heads were made by Barrois. Leon Casmir Bru had worked for a doll assembler for a short time before deciding to start his own business. Appolyne, a seamstress, provided the elaborate costumes for the fashion dolls, which were unmarked except for the letters on the head. Later lady dolls were marked B. Jne et Cie, B.J. or R.B. (Barrois).
To Purchase or buy our Bru Dolls - click here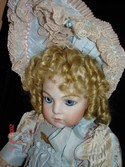 In 1883 the Bru business was sold to Henri Chevot, who produced all the wonderful designs of Bru Jne. The last owner of the Bru Company, Paul Girard, took over in 1890.

In the study of the faces used on the Bru Bebe you find three shapes from three master molds as they differ from the Thuiller dolls with hand glass craft eyes from England and Steiner dolls we make including other antique dolls.

The earliest of the children dolls was the unmarked Brevete`. For identification, it had only the sticker on the chest. This doll had
cupped-like hands
each nail outlined in pink
head was mounted on a shoulder-plate and placed on a leather body.
All of the other French companies placed their Bebe heads on composition bodies. Leon Casmir Bru had been producing leather bodies for lady dolls so he made a leather body in childlike proportions for the Bebes.

Transition Brus between the Brevete` and Bru Jne are the Circle-and-Dot Bru or the Crescent Bru, which came after the Brevete`. This was an entirely new face – the second master mold of Bebe Brus.

Leon Casmir Bru had sculpted the Bebe Bru Jne and the master mold was was made before Chevot bought the business. This was the Bru Bebe master mold number three, which produced a successful business for Chevot for seven years. Bebe Bru Jne was modeled to be a child, older than the Circle Dot Bru.

Hundreds of different Bru faces were conceived from this master Bru Jne mold. Actually, all Bru June faces are taken from this same mold.

In 1889, the House of Bru changed hands again when Paul Girard took over. Girard altered the Bru Jnes from the old master mold to a look that was barely recognizable. He added a "R" to the signature.
Our company makes antique reproduction dolls including the Jumeau dolls. All our porcelain dolls, including the Bru dolls come with handmade mohair wigs

History from Fabulous French Bebe by Mildred Seeley.